What Are Our Territories?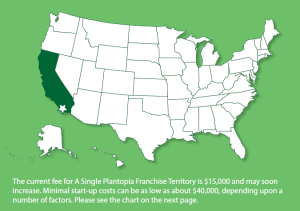 When you join Plantopia, you have the choice of a new start-up business or you can convert your current flower, plant, or gardening company to be under Plantopia's umbrella. Area Developers and Master Franchisor packets are also an option when you join Plantopia, if you would like a larger region to develop.
You will be given an exclusive territory that will include a defined area and will be documented by a number of factors, including commercial property/square footage, population, MSA statistics, household income, etc. This means that each Plantopia Franchisee will have an entire city or metropolitan area in most cases, but in larger dense MSAs, like Los Angeles, New York or Chicago, for example, there will be several franchises located there to service the volume of potential clients.
We are looking to expand into new areas soon!