Residential Plant Care – Interior Plant Designs
What can we do for you?
Do you need someone to take care of your indoor plants?
Do you need some plants but do not know what kind?
Do you want a specific plant and cannot find it anywhere?
Are you trying to improve your living space with plants?
You have come to the right place. Plantopia is first in Cusotmer Service with the expertise that you need.We take pride in our work and the quality of service we deliver. Reading our Client Testimonials you may gather that we simply work with higher standards.
Our Interior Plant Service providers can assist you with all of your house plant questions and needs at reasonable and affordable rates.
Plantopia offers Plant Service daily, weekly, biweekly, monthly, and periodic ad-hoc services to residential customers throughout San Diego County and Southern California.
Residential references can be furnished upon request.
For Offices, receptions, hotels and shopping centers Plantopia can deliver stunning modern, contemporary, traditional or any decorated Christmas trees and accessories. With hand picked live trees, supply and guaranteed installation dates, decoration and lighting by professional Christmas tree teams and environmental disposal, you can be assured of a Christmas service that will meet all of your expectations.
We supply live fresh Christmas trees from 4′ to over 60′. Our real Christmas trees come from sustainable forests right here in California.
Artificial Christmas Tree
We supply artificial Christmas trees from 4′ to over 40′. Our artificial Christmas trees are of the highest quality and have a high branch tip count (the sign of a quality artificial Christmas tree) our artificial Christmas trees are flame retardant, and are certified under British and European trading standards.
We provide themed Christmas accessories like Christmas garlands, Christmas wreaths and Christmas flower arrangements to compliment your Christmas tree.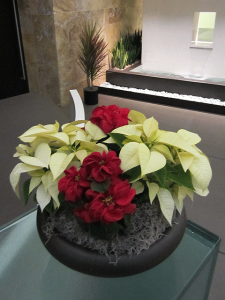 Simply order your decorated Christmas tree and accessories here on our website and let us do the rest, alternatively contact one of our dedicated Christmas tree team members: Christmas@MyPlantopia.com or call us at 800-690-7875 and we can advise on all your decorated Christmas trees and discuss your specific requirements.